&nbsp
4MAT - developed by Dr. Bernice McCarthy
Dr. Bernice McCarthy (USA) developed the first basic structure of the 4MAT system in the late 1970s. Since then, the method has systematically and continuously been used, developed and linked to the newest research in the field.
From kindergarten teacher - to leading expert on learning
The idea for 4MAT came to her, when she was working as a kindergarten teacher in the seventies and became aware of the different ways children learn. She contacted researchers and theorists to learn even more and created 4MAT based on the sum of her knowledge. Today 4MAT is used worldwide - and Bernice McCarthy is renown as one of the leading experts on her field.
30 years of experience and research
The 4MAT method is built on 30 years of experience and research, and is a unique collection and linking of theories on human beings and communication. The method is constantly being developed by both Bernice McCarthy herself and her dedicated staff at About Learning, Chicago, USA.
Author and keynote speaker
Through out the years Bernice McCarthy has presented numerous workshops and keynote sessions on effective learning at renowned organizations worldwide, and are also widely known for her books and publications on learning, for example: "About Learning", "Teaching Around the 4MAT Cycle" and "4MAT: 8Steps to Designing and Delivering Effective Training".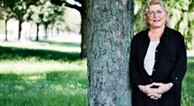 ---