&nbsp
Optimize your 4MAT designs
For all our 4MAT Masters (those who completed the 4MAT Mastering Training Design education), we offer follow-up supervision and assistance to all who want to actively work with targeted implementation of their new 4MAT knowledge.
Supervision and help
At this workshop, we work exclusively with the development and/or adjusting of your own concrete 4MAT designs. You can bring a 4MAT design which causes you challenges and recieve help on how to solve it in a succesful manner, or you can bring a fresh new topic/concept and spend the day working on the development of this 4MAT design.

Your 4MAT design - ready to use
At the end of the day you will have a fine tuned 4MAT design ready to use in your company or organization.
Duration
This workshop is a one day event from 09:00 - 15.00.
For more information
Call Hanne on (+45) 4040 3211 or write to hh@4mat.dk for more information.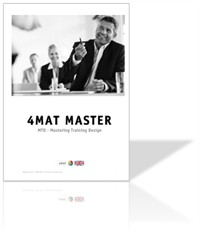 ---